Are you looking for a way to make your style stand out? If so, vintage band t-shirts may be the perfect solution. With their bold designs and unique styles, these shirts are sure to give any outfit a rockstar look.
From classic bands like The Beatles and Led Zeppelin to modern-day artists like Taylor Swift and Ariana Grande, there is something for everyone when it comes to embracing vintage band tees. Whether you're rocking them on stage or strutting down the street, these iconic pieces of clothing will help you showcase your style while paying homage to some of your favorite musical acts!
Making a Statement with Vintage Band Tees
From the classic Beatles to modern-day stars, vintage band t-shirts are a timeless way of making a statement. For decades, dedicated fans have flocked to shows and concerts wearing their favorite artist's merch as both an expression of fandom and fashion.
Nowadays, vintage band tees can take your look from stage to the street in an instant, creating an edgy rockstar vibe full of personality. Whether you're rocking out at a music festival or grabbing lunch with friends, vintage band tees add that extra oomph needed for any outfit.
It could be as simple as throwing on a tour tee over black jeans and boots; or going all out in shredded denim shorts paired with leather accessories – whatever style you choose it will always scream cool confidence! Opting for quality over quantity is key when shopping for vintage band tees; there's nothing worse than unwashed fabric or faded prints ruining the entire aesthetic. Good condition pieces tend to come with higher price tags but they are worth every penny when compared to cheaper knockoffs which lack authenticity and originality – two factors that make the look stand out from the crowd even more! Vintage band t-shirts provide endless possibilities when it comes to expressing yourself through style so don't be afraid to explore different looks until you find something perfect for your taste.
With this kind of wardrobe staple, it won't take long before everyone starts taking notice – after all who doesn't love channeling their inner rockstar?
The Rise of the Rockstar Look
From the days of Elvis Presley to modern-day rock stars, vintage band t-shirts have been a staple in rockstar style. The classic look has transcended time and culture, emerging as an iconic fashion statement for fans of all ages to make their own.
With the rise of social media, vintage band t-shirt trends are now spilling over from stages into everyday streetwear styles. Whether it's a classic Metallica logo or an obscure punk band graphic, there is something special about wearing a vintage tee that speaks directly to your musical heroes.
As well as being stylishly cool, these shirts instantly give off a unique sense of personality and individuality – making them perfect for expressing yourself through fashion. With so many different styles available on the market today, finding the perfect fit can be daunting but also incredibly rewarding once you find what works best for you! It's important to remember when searching for your ideal shirt that quality materials will last longer than cheaper alternatives – ensuring your rockstar look stays intact over multiple wears and washes.
The rise of vintage band tees proves that music truly does have power beyond stage performances; it allows us all to express our style in ways we never imagined before! Whether you want to show off your favorite artists or just add some edge to any outfit – let those old-school vibes take center stage with this timeless trend!
From Stage to Street: Embracing Vintage Band T-Shirts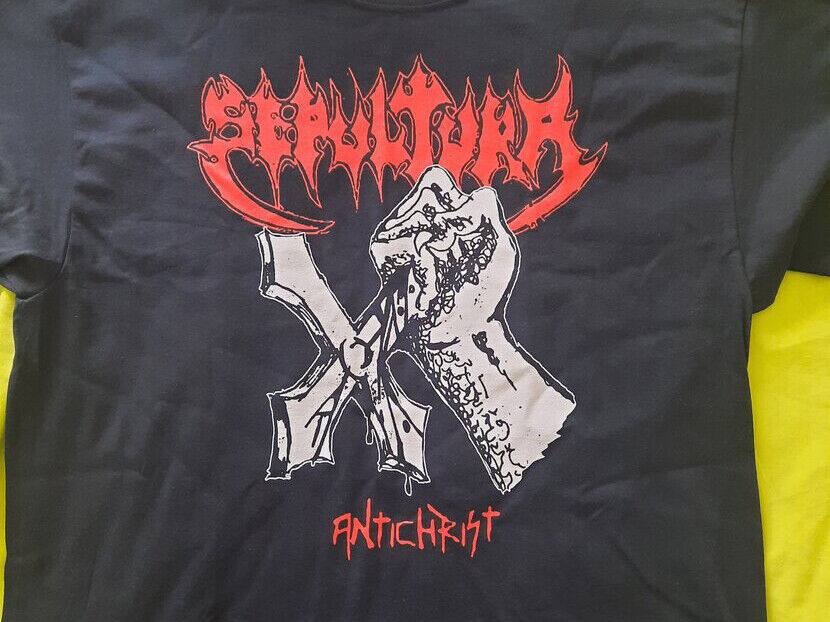 The rockstar look is making a strong comeback, and vintage band t-shirts are at the forefront of this trend. From iconic bands like Led Zeppelin to more obscure groups, these tees can be found in thrift stores across the country. Whether you're looking for something that will make you stand out from the crowd or just want to proudly show off your favorite musicians' work, there's no denying that vintage band t-shirts can give an outfit a certain edge.
These timeless pieces offer not only style but also comfort when it comes to fashion. The soft feel of cotton against your skin and the relaxed fit of these shirts makes them perfect for those days when feeling comfortable while still being fashionable is key.
Additionally, they don't break the bank – often vintage finds are much less expensive than their brand-new counterparts! What began as merchandise sold exclusively at concerts has now become statement pieces for any wardrobe. With so many styles available, everyone can find something unique that speaks to them and represents their tastes in music or fashion sense.
For example, if you love classic rock then opting for a shirt with one of its most famous groups emblazoned on it would certainly turn heads! Or if punk is more your thing then why not go bold with some bright colors? Whatever type of music you prefer, there's sure to be a shirt design that perfectly complements your style! No matter what kind of look you're going for – whether it's edgy streetwear vibes or retro throwback looks – embracing vintage band t-shirts adds an undeniable cool factor to any ensemble. It doesn't take overdoing it either; even wearing one tee subtly tucked into jeans screams I know music and I'm proud! So why not join in on this ever-growing trend by bringing onstage energy into everyday life?
Conclusion
Vintage band t-shirts are the perfect way to embrace a rockstar look, from stage to street. They make a great fashion statement and bring back nostalgia for classic bands of days gone by.
Whether you're rocking out on stage or strutting your stuff downtown, vintage band t-shirts can help you channel your inner rock star and stand out from the crowd in style.