Sonic the Hedgehog is one of the most popular video game characters of all time. He has been around since 1991 and has appeared in numerous games, TV shows, comics, and more. Here are 23 of his best moments!
The most powerful sonic characters ranked is a list of the 23 best Sonic characters of all time. The list ranks each character according to their power level, with the most powerful being number one.
Since his 1991 debut, Sega's most renowned character's anthropomorphic abilities have pushed us through many action-packed platforming games. Even though Sonic's 3D games have been hit or miss, his fans remain optimistic that he would one day reclaim his former grandeur.
We've met a lot of characters with amazing powers that equal those of our blue speedster throughout the course of Sonic's decades of development and hundreds of games. Sonic has faced both heroes and villains, and you'd be surprised at how many amazing fighters we've encountered. But, with hundreds of vibrant fighters to select from, who will emerge victorious? These are the Sonic video games' top 22 strongest characters!
23. G.U.N. Commander
The Commander of the Guardian Units of Nations (G.U.N.) is the most powerful military organization in the Sonic world (G.U.N.). He spent his childhood aboard the A.R.K., a massive space station first found in Sonic Adventure 2, but he did not appear in that game. While there, he became friends with Maria Robotnik and saw the growth of Shadow.
His family was killed when G.U.N. attacked the A.R.K., and he acquired a deep hate for Shadow as a result, but he would ultimately join the organization.
He appears as an adversary during Shadow the Hedgehog, the first attempt to kill Shadow. Nonetheless, he finds that Shadow has no recollection of the event and lets him go in one of the game's branching routes. According to the dialogue in this game, he has at least one child and one grandchild. The Commander compels the game's playable protagonists to fight the Marauders, a hostile country, in Sonic Chronicles: The Dark Brotherhood.
22. Blaze the Cat
Blaze the Cat is an extraterrestrial purple cat princess. She has been named the guardian of the Sol Emeralds, which are her dimension's version of the Chaos Emeralds, placing her in a role similar to that of Knuckles the Echidna. Her true feelings are hidden behind her calm and controlled demeanor. Her strict discipline and devotion to her job "bogs her down" at times, causing her to seem aloof.
Blaze has the ability to control fire, but she conceals it under a cloak since she was teased for it as a child. Using the Sol Emeralds, she transforms into Burning Blaze. Blaze is wearing a purple gown with white tights, pink high heels, and yellow jewelry.
In Sonic Rush, Blaze makes his debut as a selectable character alongside Sonic. Sonic's world is invaded by her and the Sol Emeralds from another dimension. She meets Sonic and Cream and stops Dr. Eggman and Eggman Nega before returning to her world. In Sonic the Hedgehog's future world, she returns as Silver the Hedgehog's sidekick.
Sonic's world is invaded by her and the Sol Emeralds from another dimension. She meets Sonic and Cream and stops Dr. Eggman and Eggman Nega before returning to her world. In Sonic the Hedgehog's future world, she returns as Silver the Hedgehog's sidekick.
The two want to restore their devastated future world by traveling back in time. Blaze sacrifices her life to imprison Iblis, the fiery demon who has wreaked havoc on their world. Despite this, she is revived after the game when Sonic, in his own time, defeats Iblis. Sonic and Tails are transported to her world to help her retrieve the "Jeweled Scepter," and she returns as the main character in Sonic Rush Adventure.
21. Professor Gerald Robotnik
Professor Gerald Robotnik is the grandfather of Maria Robotnik and Dr. Ivo "Eggman" Robotnik. He attempted to create the "Ultimate Life Form" using United Federation funds fifty years before the main series in the hopes of healing Maria's illness. In Sonic Adventure 2 and Shadow the Hedgehog, he makes an appearance.
20. Maria Robotnik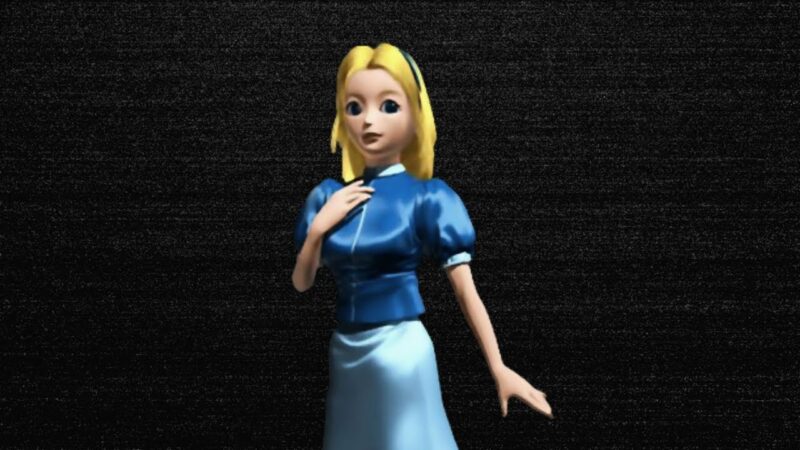 Maria Robotnik is a flashback character that appears in Sonic Adventure 2 and Shadow the Hedgehog. She is the granddaughter of Professor Gerald Robotnik and a relative of Dr. Ivo "Eggman" Robotnik. Maria suffers from a disease known as "NIDS" (Neuro-Immuno Deficiency Syndrome), which was formerly thought to be incurable. To save her life, Gerald agrees to take on Project Shadow.
After Shadow is created, the two eventually develop a deep bond. It is, however, short-lived, as the government's "G.U.N." attacks the A.R.K., murdering Maria. She hugs Shadow in an escape pod before she passes away, pleading for him to offer mankind hope and a chance at happiness. Shadow is permanently damaged as a result of his experience with Maria, but his desire to keep his promise to her drives him to team up with Sonic and rescue the world many times.
Maria's first and only playable appearance is Shadow the Hedgehog, in which she may be controlled by a second player as a companion character during certain in-game activities.
19. Omochao
Omochao is a Chao robot with a propeller attached to its head. Omochao originally appeared in Sonic Adventure as part of the Chao Races, and it later reappeared in Sonic Adventure 2 as an in-game guidebook to teach players how to play. Sonic Heroes, Sonic Advance 3, Sonic Generations, and Lego Dimensions are among the other tutorials available.
In Shadow the Hedgehog, the figure has also featured as a kind of gun. In Sonic Riders, as a collectable card, and as a referee in Sonic Rivals 2, he served as a referee. In Mario and Sonic at the Olympic Games, he also appears as a referee, a supporting character in Sonic and the Secret Rings multiplayer, and the host of the World Grand Prix in Sonic Free Riders. It only appears as part of a collection of playable Chao in Team Sonic Racing. The name "Omochao" is a combination of the terms "omocha" and "Chao."
18. Omega E-123
E-123 Omega first appears in Sonic Heroes, when Eggman imprisons Omega and Shadow in an abandoned base until Rouge the Bat accidentally reactivates Omega by rescuing Shadow from his hibernation pod. Omega despises Eggman since he has held him in stasis for such a long period. Omega decides to team up with the other two to avenge Eggman and prove that he is the most powerful robot on the planet.
In Shadow the Hedgehog, he returns with the same goal and, in certain levels, teams up with Shadow to fight Eggman's robots. After Rouge tells him to assist Shadow many years later, he is playable in Sonic the Hedgehog 2006. He's also one of the secret unlockable characters in Sonic Chronicles: The Dark Brotherhood.
17. Chaos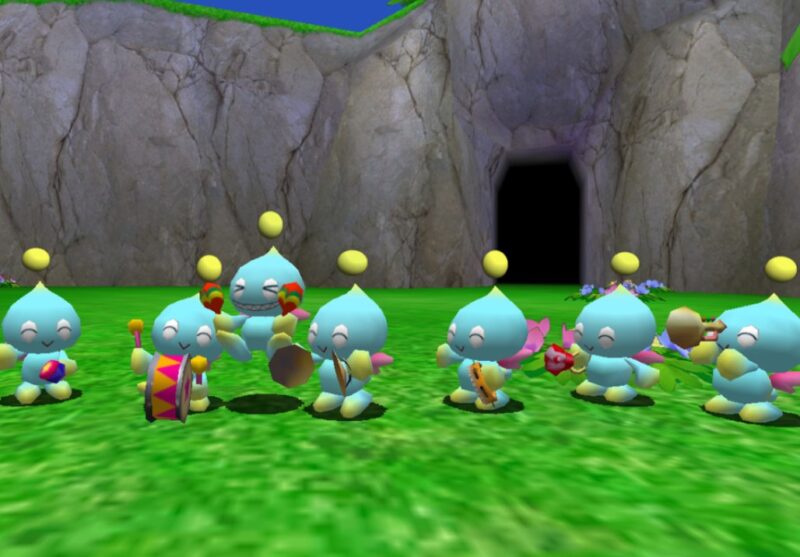 Chaos is a Chao that has been changed by the Chaos Emeralds and serves as a protector for its species, as well as guarding Master Emerald and providing clean water around its altar. It's a watery monster with the capacity to change its shape with ease. In the absence of any Chaos Emeralds, it is known as "Chaos Zero." Still, it develops into a more powerful form with each Emerald it consumes, eventually becoming "Perfect Chaos" with all 7 Emeralds.
It first appears in Sonic Adventure, when Dr. Eggman attempts to use it to take control of the world. Before being vanquished by Super Sonic, Chaos chases the emeralds, turns into "Perfect Chaos," and floods Station Square. Sonic Adventure 2 adds a new multiplayer character, Sonic Battle adds a playable fighter, and Mario & Sonic at the Olympic Winter Games adds an ice version of Perfect Chaos.
In Sonic Generations, he returns as a boss in his perfect form, complete with green fangs and dark blue reptile skin on the top half of his body. This was supposed to be how he always looked, but the technology of the Dreamcast at the time made it seem impossible. In the Lego Dimensions Sonic the Hedgehog package, Chaos is the last boss.
16. Big the Cat
Big the Cat is a large purple cat that first appeared in the Dreamcast game Sonic Adventure in 1998, when he was tasked with justifying the presence of a fishing rod in the game, despite the fact that it was pre-planned. Big is a large, purple anthropomorphic cat that, although being stupid, is proven to be friendly, easygoing, and physically powerful.
After Froggy swallows a Chaos Emerald and a piece of Chaos's tail, the game's antagonist, Big's adventure in Sonic Adventure finds him rescuing his frog buddy Froggy out of different bodies of water. In Sonic Heroes, Big teams up with Amy Rose and Cream the Rabbit to track down Froggy and a vanishing Chao monster called Chocola.
He appears in the Sonic X anime and the Sonic the Hedgehog comics, reflecting the story of Adventure. He is a minor playable character in later Sonic games such as Sonic Chronicles: The Dark Brotherhood and Sonic & Sega All-Stars Racing, and a non-player character in Sonic Colors for the Nintendo D.S. Big appears in the Sonic X anime and the Sonic the Hedgehog comics, reflecting the story of Adventure.
15. Silver
This character originally appeared in the infamous 2006 Sonic the Hedgehog game, and ended up being a delightful addition that made subsequent games much better. This strange hedgehog is fun to play in most games because to his telekinetic powers, which sets him apart from the series' melee-oriented heroes.
This character is a great way to weave dramatic tales together without having to create one-off minor characters. He serves as an organic way of introducing the more mystical and cosmic aspects of the Sonic world, and he is an important component of the series' present roster, due to his complete neutrality.
14. Cream and Cheddar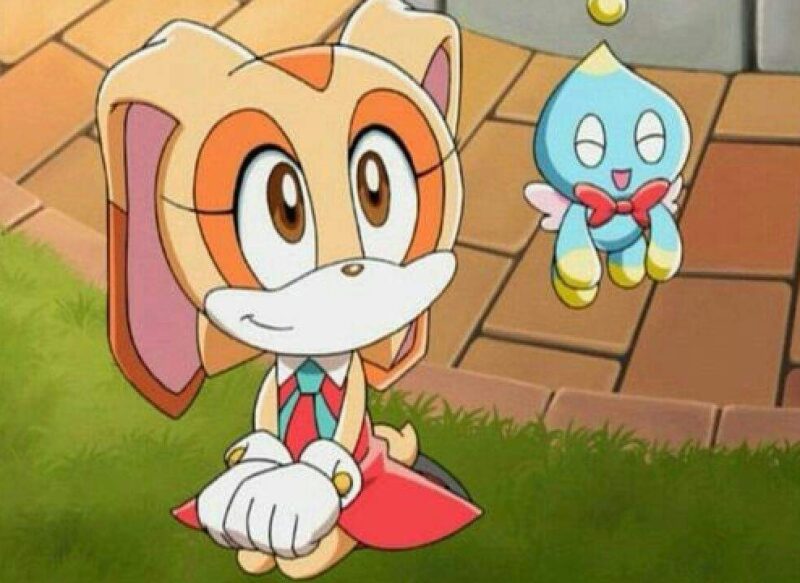 For a long time, Amy was the only female character in the Sonic series that most people knew. Despite the fact that she's obviously more than meets the eye, there's always space for more female animal characters in this series.
Cream and her beautiful Chao pet Cheese are excellent illustrations of the series' diverse female characters. The Cream is a much more innocent bystander with a clear goal of protecting her pet, which makes her more endearing in every game she appears in.
13. Bark
The Bark is one of the few characters from Sonic the Fighters who has yet to appear in other Sonic media. This arctic bear isn't likely to have come from a great game. Nonetheless, the fact that he is Sonic's lone bear and one of the few winter-themed characters makes him much more notable than his few appearances indicate.
Given Sonic's usual body type is rather small, there's definitely something to be said for more prominent characters in the series. Bark's silhouette is much more identifiable than that of any other side character, despite the fact that he isn't really a striking or unusual form.
12. Tikal
Tikal, who is most known for his appearance in the original Sonic Adventure game and as a recurring character in the Sonic X anime, is a rare character in the series. She is one of the series' few other Echidnas, and she is basically an ancient guardian of the Chaos Emeralds from before Knuckles gained the role.
Given the quantity of Hedgehogs and their devotion to Knuckles, Tikal's appearance is nearly inexplicable. She's a far more calm and polite guardian of these famous gems, and she might effectively act as a nice and optimistic contrast to Knuckles' harsh and pessimistic demeanor.
11. Fang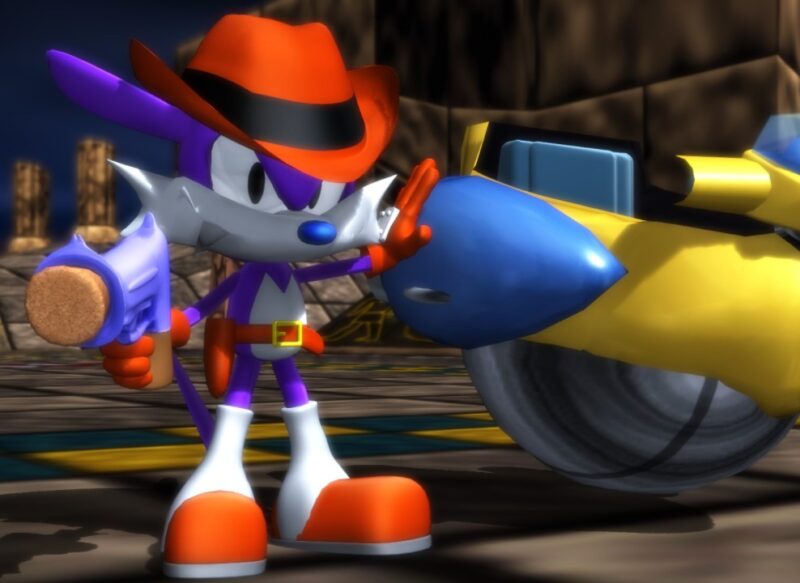 Fang the Sniper is the most stereotypically cool character in the series. Other than his debut in Sonic the Fighters, this gunner, who sports a beautiful cowboy hat, has only appeared in a few locations. With characters like Shadow and Silver being excessively somber, it's refreshing to see a person who recognizes his own awesomeness.
We've seen him more lately when he appeared as a potential mini-boss with fellow Sonic the Fighters characters Bark and Bean in Sonic Mania. Despite this, he is a really distinctive fox amid a sea of dramatic and absurd characters, and he deserves to be played again.
10. Big
This figure has an unpleasant appearance, but it is also quite unique. He's another example of a kind individual who acts only to defend his friends. And since he's Amy Rose's best friend and Sonic's constant pursuer, he often finds himself in situations he'd prefer avoid.
He is a lonely fisherman who enjoys moving slowly, despite his frightening height and strength. He's more like Baymax from Big Hero 6, which is a pity since he falls into the cliché of being both big and slow-witted. If his appearance doesn't frighten you, he's just a big, cuddly cat.
9. Amy Rose
Amy Rose was first introduced in the manga, and she is one of the few female characters in the series. It's a pity, however, that she seems to have a dual personality. On the one hand, she holds the colossal Piko Piko Hammer and seems to be a formidable opponent.
On the other side, she is always tripping over Sonic and has been accused of being cowardly. In any event, the contrast between her endearing appearance and her absurdly huge weapon is amusing. Her cheerful attitude may be infectious or annoying to some, but she is undeniably popular and recognizably feminine in appearance.
8. Shadow
This figure has a complex backstory that stems from Dr. Eggman's grandpa Gerald Robotnik's research program. Gerald was the quintessential scientist whose good intentions had unintended consequences. Shadow isn't just a different color version of Sonic; he's a different anti-hero in the game who primarily acts as a lone wolf but occasionally aids Sonic.
Regardless, he was an immediate hit, so much so that his character was brought back from the brink of death. He does, after all, have that eye-catching black-and-red color scheme, apart from his origin story.
7. Rouge the Bat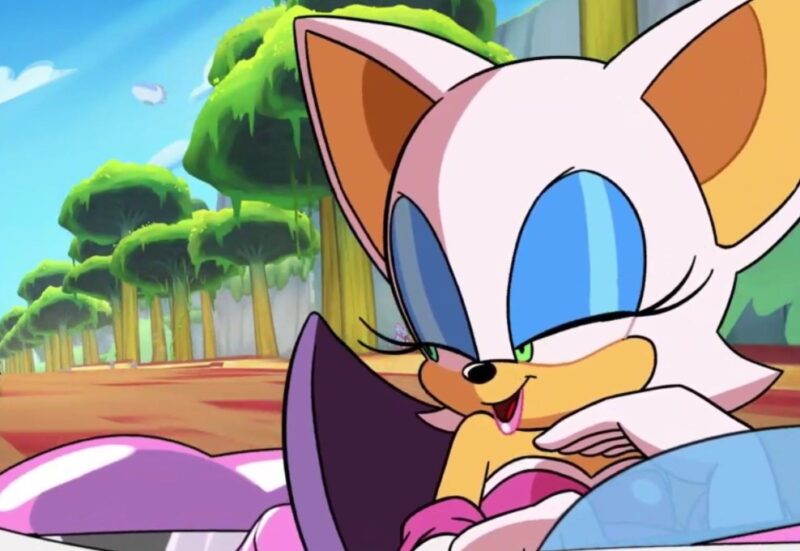 They must have started looking for additional animals to anthropomorphize. In any event, she's a far better option than Amy, despite her wickedness. She's a spy with impressive fighting abilities and a weakness for jewels, and she looks a lot like Catwoman.
She has a seductive demeanor, a fiery temper, and a weak moral compass. In that sense, she's a carbon copy of Espio the Chameleon, and she's likely one of the many new characters that upset fans. She does, however, possess extraordinary abilities and a captivating personality.
6. Espio
She exudes seduction, has a fierce temper, and a shaky moral compass. In that way, she's a carbon copy of Espio the Chameleon, and she'll almost certainly be one of the many new characters to irritate fans. She does, however, have exceptional skills and an enthralling personality.
Vector the crocodile and Charmy the Bee are two more entertaining characters in this team. Espio has a reserved demeanor, and although he has all of the characteristics of a hard-boiled detective, he is a nice archetype who compliments his more upbeat colleagues.
5. Metal Sonic
The only honest response to Godzilla's refusal to die is to construct a Mechagodzilla. This is one of the few monsters that Robotnik has created that is capable of posing a serious danger to Sonic and his friends. His abilities have been compared to Sonic's, although he has never been able to beat him. Maybe it's a case of irrational infatuation.
In any case, he has a sleek design, and he qualifies as a "character" since he is really sentient. Robotnik's other nefarious inventions pale in comparison to the many drones that Sonic blasts through on a daily basis—much like Gerald's prized creation, Shadow.
4. Your knuckles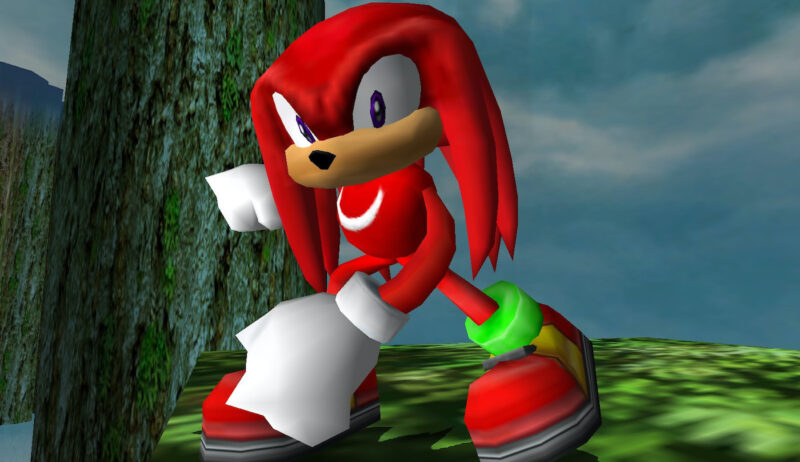 He started off as a villain, constantly gloomy and hogging all the attention, but his abilities made him a popular favorite, and he ultimately learns Robotnik duped him. He's more deeply embedded in the franchise's mythos, having been the last of his kind to be entrusted with safeguarding the Chaos Emeralds' protection.
Because they're such a complex bag of worms, let's simply presume they're comparable to the Infinity Stones. Knuckles' combative demeanor, fiery appearance, and legendary power immediately endeared him to fans, and he has since featured in a plethora of sequels and merchandise.
3. Tails
Every Mario should have a Luigi. Miles Prower, the fabled flying fox, is a fun sidekick that isn't simply a color change for Sonic. He has his own history, battling with bullies and ultimately making good use of his distinctive tail. His ability to fly, which he first demonstrated in Sonic the Hedgehog 3, comes particularly useful in a platforming game.
Tails, who has traditionally been shown as a younger sibling, is really a mechanic, giving the series a more everyday feel. Although he did have a part in the introduction of multiplayer, he is a mild-mannered character with a charming design targeted for younger audiences.
2. Robotnik is number
Dr. Eggman is his other name, and he's a classic villain in the sense that he's always aiming for world domination. His methods, on the other hand, are what make him so fascinating. Weapons manufacturing and environmental destruction in order to convert indigenous animals into robots are both obviously human vices with unmistakable indications.
In the real world, there has been an obvious imbalance in our environment, and there have certainly been missile-wielding warmongers. Furthermore, his efforts to convert everything into mindless, obedient robots are self-evident. In this mad scientist's creation, the clash between nature and technology is a fascinating subject.
1. Sonic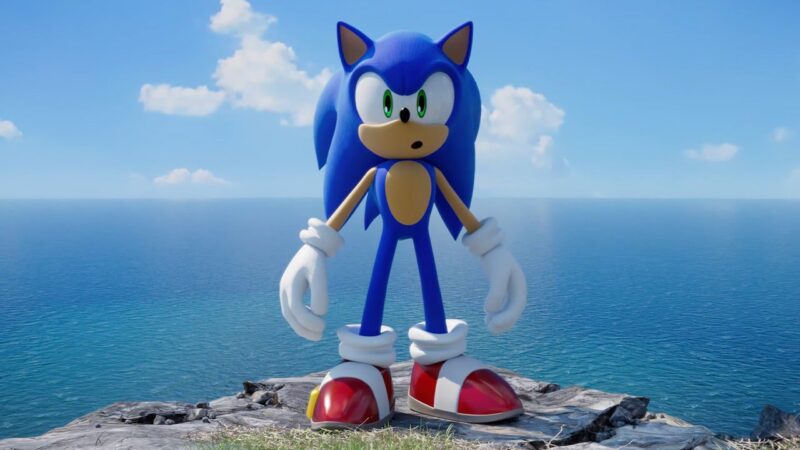 This was self-evident as a consequence. Due to his hectic schedule as a result of his excellent career, Sonic only made a short cameo in Wreck-It Ralph. With a gorgeous appearance and a cheerful attitude, his proclivity for speed set him apart from other platformers. Gamers don't always have the best attention spans—we want things done now—and here was a protagonist who could turn any gamer into a speedrunner.
We're all Sonic fans on a deep level since his world has a basic foundation and is filled with a colorful visual design that focuses on animals. Sonic's moral compass is also always pointing in the correct path. His generosity is endearing, and just from playing the games, he has a surprising amount of personality.
Sonic the Hedgehog is a blue anthropomorphic hedgehog that can curl into a ball and move at supersonic speeds. He was created by Sega in 1991 and has since become one of the most recognizable video game characters in history. The who is the most hated sonic character is a question that I am able to answer with 23 different options.
Frequently Asked Questions
Who is the most loved Sonic character?
In my opinion, Sonic is the most loved Sonic character.
Who is the most annoying sonic character?
Knuckles the Echidna.
Who is the strongest character in Sonic universe?
The strongest character in Sonic universe is Knuckles the Echidna.