Image Comics proudly presents Junkyard Joe, a special edition comic series created to benefit homeless veterans. Written by Geoff Johns and illustrated by Gary Frank, Junkyard Joe tells the story of a violent robotic soldier who finds himself questioning everything he knows. With action-packed artwork and a heart-wrenching story, Junkyard Joe is sure to pull at your heartstrings.
"For a story centered on a violent robotic soldier, JUNKYARD JOE is one of the most human stories I've ever written," says Geoff Johns. "Gary and I have always centered our stories around the heart of our characters, around emotion. With Superman, we explored what friends meant to him in our Legion of Super-Heroes arc, and then what family was to him in Brainiac and Secret Origin. We re-introduced Shazam and focused on the literal magic of found family. And with Doomsday Clock, we wanted to contrast Watchmen's thesis about power vs. powerlessness through the idea of fear vs. hope."
Junkyard Joe #1 is about the origin story of Junkyard Joe. It started in 1972 near the end of the Vietnam War. Soldiers are waiting to go home from the war. A helicopter brings in the mail and a new recruit. The new recruit is strong and silent. This is his first day in combat. The enemy surrounds the camp, and the new guy survives a grenade explosion that destroys his robotic body. And Junkyard Joe enters the comic universe.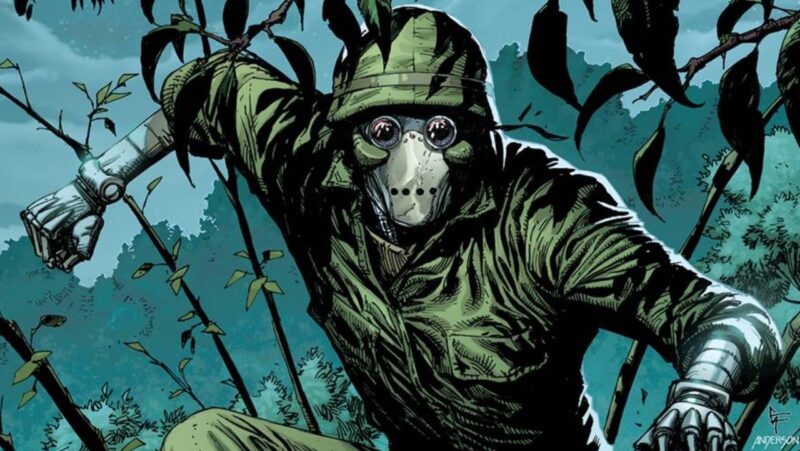 All proceeds from the sale of Junkyard Joe will go towards helping homeless veterans. This is a cause that is near and dear to Geoff Johns' heart, as he is a veteran himself. "I'm so grateful for Gary's willingness to help me tell this story," says Johns. "It's more personal than anything else I've written, and I think our readers will connect with it on a very human level."
Junkyard Joe #1: honors veterans by depicting their realities, helping readers to understand and respect the physical and mental challenges that armed service members endure. Junkyard Joe #1 is by no means an easy read, but that is part of what makes this such a well-done comic book.
Unflinching and graphic, this comic will take you on an emotional journey that is sure to introspect. The beauty of it lies in Geoff Johns' ability to not dwell too long in any one moment, allowing readers to grasp the story as a whole while still providing enough detail to appreciate the individual scenes.
It's easy to shy away from tough subjects, but Geoff Johns managed to find a way to present the heartbreaking aspects of war while still maintaining an overall message of hope. At the end of every issue, Johns and his team invite readers to share personal stories about family members who served in any capacity for the armed forces.
If you're looking for a new comic series to sink your teeth into, or if you're just looking for a good way to help out a worthy cause, pick up Junkyard Joe from Image Comics today!
Every purchase of Junkyard Joe helps support homeless veterans – an issue that Geoff Johns, writer of the series, is passionate about. The proceeds of Junkyard Joe #1 will be donated to the National Coalition for Homeless Veterans and Veterans Aid in memory of Johns and Frank's grandparents, both of whom served during World War II. If you're looking for an emotionally charged story with beautiful artwork, or if you're just looking for a good way to help out Veterans in need, be sure to pick up Junkyard Joe today!