While a couple prepares for their wedding, they might try to do whatever they can to avoid wedding content, as the planning part can be stressful enough. But why not inject some excitement into the event of planning for your wedding?
Beyond enlivening the experience by creating custom wedding bands or tasting various delicious wedding cakes, why not improve your spirits further by throwing on a mushy wedding movie? It might not be your first thought, but feeling that love through the silver screen can be enough to remove you and your to-be spouse from the stress of planning. Moreover, shedding a few tears might bring you even closer, reminding you why you made this decision while sweeping away any anxiety you might feel. Here are six of the mushiest weddings to enjoy with your soon-to-be spouse:
1. Love Actually
While it's become a holiday classic due to its Christmastime plot, Love Actually is an endlessly endearing and funny movie that sticks with you long after you've watched it. Whether it's listening to Peter's (Chiwetel Ejiofor) and Mark's (Andrew Lincoln) conversation regarding prostitutes and more as the groom and best man while Juliet (Kiera Knightley) proceeds down the aisle in her wedding gown or Mark playing Christmas songs through a boombox and confessing his love to Juliet through large cue cards, there are too many moments to make note of which resonate with laughter and love.
2. My Best Friend's Wedding
Julianne (Julia Roberts) is a food critic supposedly in love with her best friend, Michael (Dermot Mulroney), who is engaged to a rich daddy's girl and local sportswriter named Kimmy (Cameron Diaz). Yet the trouble is that Julianne and Michael agreed, years ago, that if neither were married by age 28 they would marry one another.
In My Best Friend's Wedding, Julianne finds herself approaching this date while also realizing she is in love. Knowing she can't let her friend marry this privileged daddy's girl, she sets out with a scheme to sabotage their wedding through lies, deceits, and more.
The film is a rom-com with a twist we don't end up seeing, and it leaves viewers with a belly full of laughter and a heart full of warmth. Expect to be surprised if you've never seen it after all these years!
3. Steel Magnolias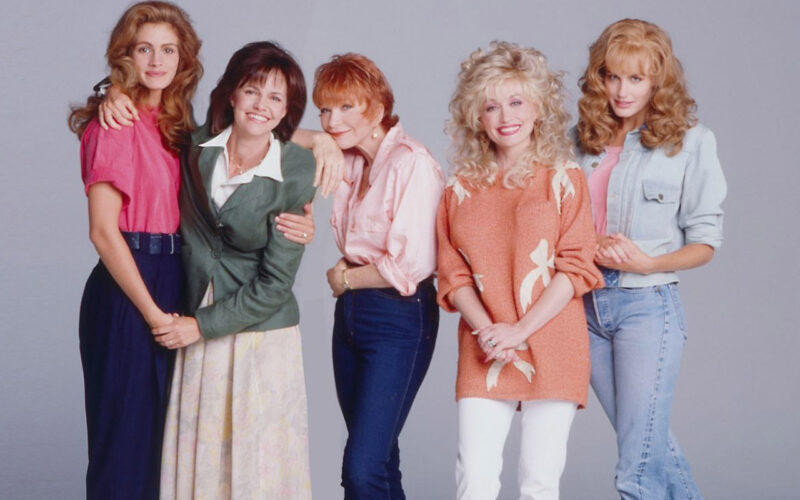 Another film starring Julia Roberts, now as Shelby, the cast of Steel Magnolias is rounded out with other exceptional women, including Sally Field, Dolly Parton, Shirley MacLaine, Olympia Dukakis, and Daryl Hannah. While the women gossip and are busy for Shelby's wedding day, there is far more to the film that makes it the classic it is, whether for the relationships between the well-developed female characters or the tears that are sure to be present.
4. My Big Fat Greek Wedding
My Big Fat Greek Wedding stars Nia Vardalos as Toula and John Corbett as Ian, opposite one another, in a film about meeting your soulmate while not understanding the family baggage that can come with it all.
At the age of 30, Toula decides to separate herself from her family to gain her own independence. She does this by marrying her dream man, Ian. Ian thinks it's a wonderful idea, but he is unaware of the potential troubles to come from this marriage: that Ian is not Greek, and that Toula's Greek family would be disapproving of such a choice.
This clash of backgrounds is a common trope among rom-com scenarios, but it is used here to hilarious effects, rather than relying on the serious nature of a romantic film like Titanic or The Notebook. The film, at its core, brings us more than laughter along its runtime; it helps us question what goes too far, especially in terms of maintaining your culture and attaining the love you feel for another person.
It can even extend to further considerations that might crop up in real life. For some, an extensive Greek family might be a lot for one man to take on, but he's sure to be reminded of his love for his soon-to-be wife when they're shopping for men's wedding rings.
5. Rachel Getting Married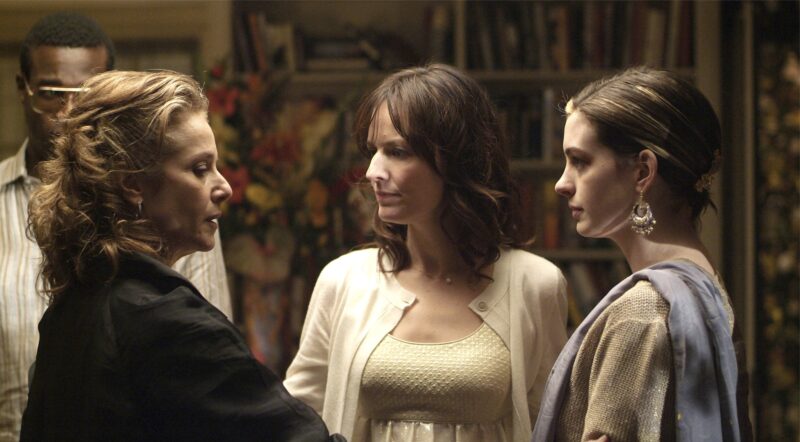 Many wedding movies tend to be comedic to break the tension that eventually arises. We hear the Rom-Com tag thrown around, as there is a need for balancing emotions among a love-centric film—as families come together they laugh, cry, scream, and hug it out, coming together as one in the end. But that doesn't always have to be the case.
In Rachel Getting Married, Kym (Anne Hathaway) is a drug addict in recovery who chooses to leave rehab so she can attend her sister Rachel's (Rosemarie DeWitt) wedding. There is tension in the air, as Rachel did not ask Kym to be her maid of honor; moreover, emotions flare over past incidents that are blamed on Kym, Kym's rehab stint being seen as nothing more than a game, and much more.
This movie handles tragedy, accusations, addiction, and family drama well, balancing subjects that otherwise could lead to plot insanity—beyond the dysfunction the family is already struggling with. In the end, we understand that the cast is full of complicated people and that no person is perfect in their lives, whether as they see themselves or as others perceive them. And, with that, we are left with a wedding that resonates, with family remaining there for one another.
6. The Farewell
Awkwafina became a breakout star thanks to Crazy Rich Asians, but her role as Billi in Lulu Wang's 2019 The Farewell cemented her immense talent as an actress. The story is a riveting one, as the wedding is not the central plot of the movie, but rather a means for this Chinese family to be reunited.
Tragedy has struck the family as it is learned that the family's matriarch, Nai Nai (played by Shuzhen Zhou), is terminally ill. The plot twist? The family hides this truth from Nai Nai, acting instead as if she is not sick at all. To bring the family together one last time, family members force an engagement and marriage to bring everyone together, where Nai Nai can celebrate with others before she goes. However, Billi—who was not supposed to go to China for the wedding—is opposed to the family keeping Nai Nai in the dark about her terminal illness.
There is the crux of the film. Viewers are left to watch this family sway between truth and fiction, leaving all involved members laughing and in tears along the way. While you'll walk away with questions, you'll equally be left emotional, reminded of the importance of family and asking yourself to what ends you'd go to protect those you love.
Watch Them and Weep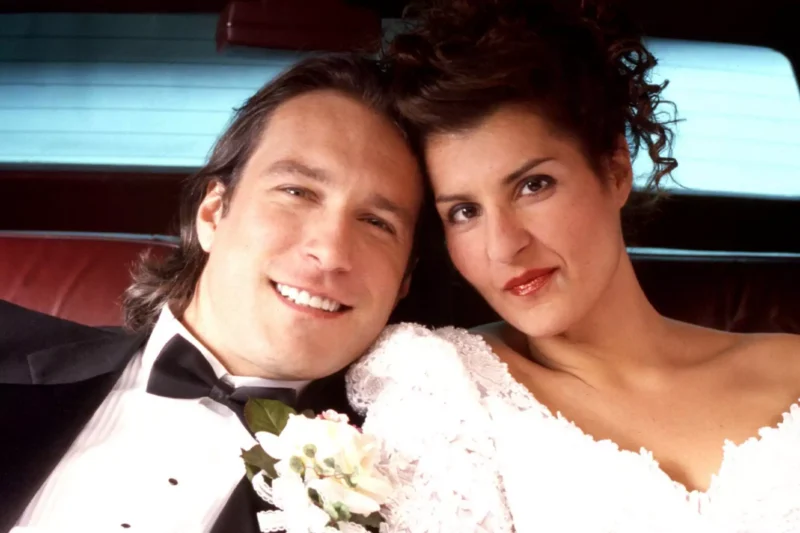 Whether you're looking to relive your own wedding or want to lighten the mood surrounding you and your fiancé's upcoming wedding, a heartfelt, emotional wedding film can be the step to helping you find comfort along the way.